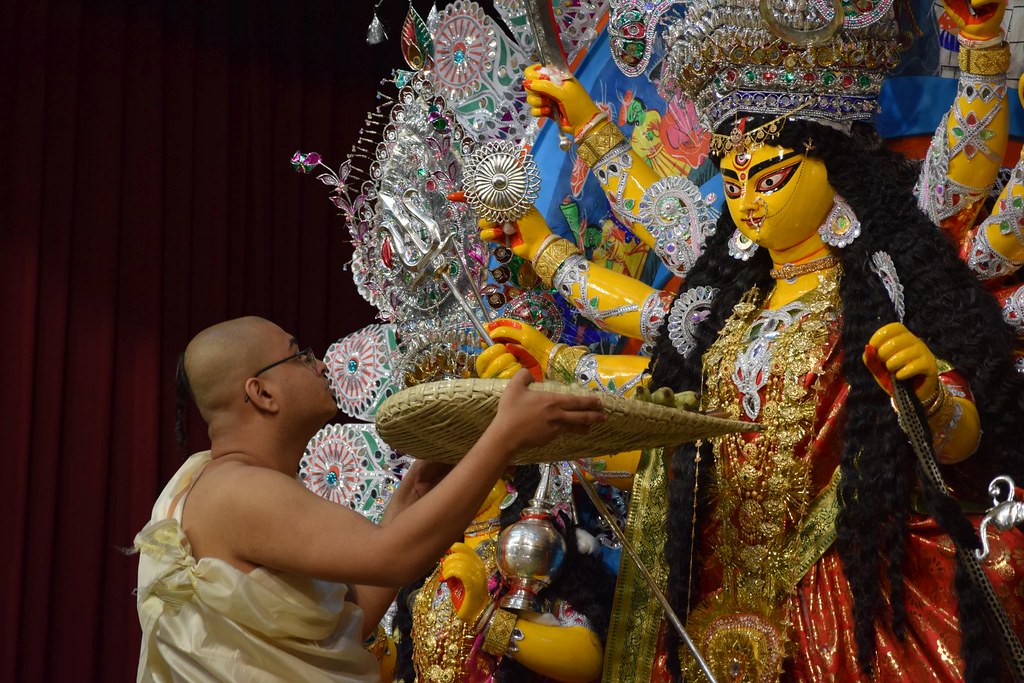 CHENNAI: As the city moves into the festive spirit of Navarathri, Bengalis have joined the fun with Durga puja arrangements.
Starting with the Shashti puja on Sunday till the immersion of the idol on dashami (Thursday) it will be a celebration for all ages. The aarti, the pushpanjali and the sindoor utsav transports one into another world where there are no textbooks or cheque books. It's a world of colours, of new clothes, of untiring chat session, of Bengali khabar (food). It is when the clock chimes back to an era when families came together to celebrate the goddess and her exploits, when grandmas told stories of subverting the evil one, of stealing sweetmeats from the puja thali.
Yet, this year there is a subtle change in the atmosphere which is otherwise one of splurging. The soaring spirits have been in check by thinner wallets. Rocketing prices and fears of another economic downturn are playing spoilsport. "Expenses of the puja have gone up manifold," says Bengal Association president Dr Anjan Prasad Chakraborty. "The sudden hike in prices of groceries like rice, dal, ghee, sugar and other ingredients of 'bhog' for 1,200 to 1,500 people daily has send the budget soaring. The five day festival last year cost Rs 12 lakh; this year it will go up by 20%," he adds.
Stall serving Bengali cuisines, one of the main attractions of Durga puja, have maintained last year's price. "We are not looking for profit. Hence although the cost of making the dishes has increased by 25% since last year, we have kept the prices the same," said Tapas Bhajan, secretary of the association. It is this spirit of giving, of unbridled fun and enjoyment that symbolizes Durga puja.
Keeping aside all worries and apprehensions, for most it is now time to meet up with friends, catching up on gossips and helping out in the preparations. In a society which is rapidly moving towards nuclear existence, the pujas have become a platform for bonding. "It's a time for social interaction through participation in various activities, be it simply sitting around and chatting or helping out at a stall," says Amit Biswas, professor at the Indian Statistical Institute. A self-professed Chennaiite, he visits a number of pujas in town that include the ones at T Nagar, Indira Nagar and Kalibari.
This article was published here by the Times Of India on Oct 2, 2011