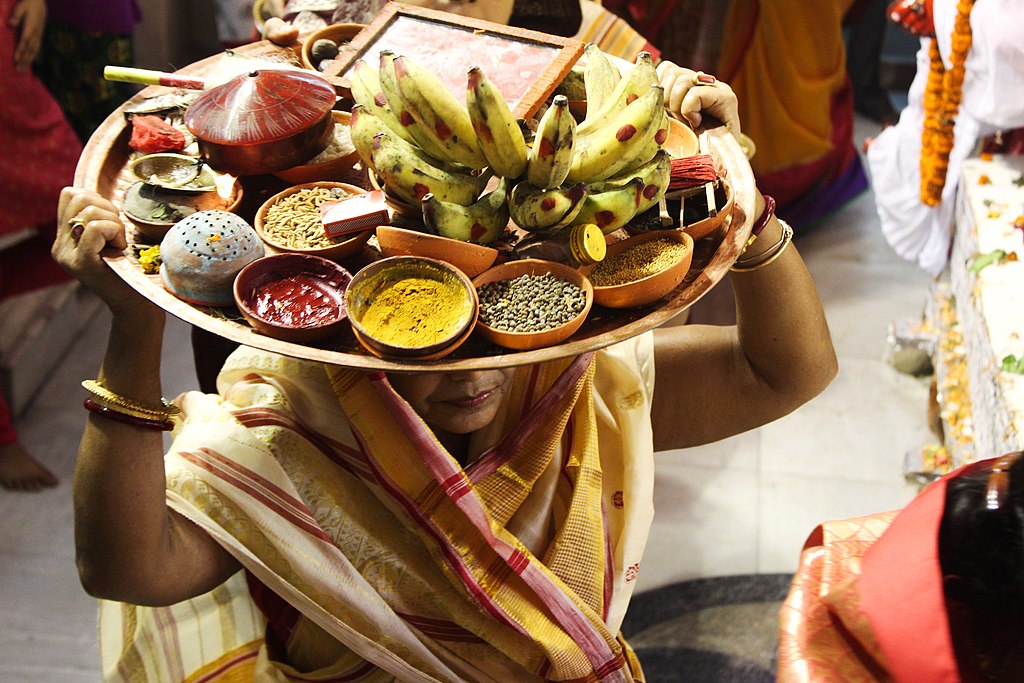 A whiff of the food's aroma can transport you back to your childhood days – the Sundays when women in the family would prepare age-old recipes handed down through generations. It is this trip down memory lane that pulls Bengalis to visit restaurants serving their cuisine during the pujas.
Catering to niche customers, many restaurants have special dishes on offer to please the Bengali babus and boudis of Chennai. One such restaurant is Bayleaf, on Cathedral road. "We have restructured our menu keeping in mind the festive season," says Alok Gupta, owner of the restaurant. "Since we have a mixed crowd from all cultures, it is a revelation for them to taste authentic Bengali cuisine," she said. The special puja platter will be served till October 16.
A lot of the preparations are world-famous, ripe with history. The Hilsa is renowned for its exquisite taste, especially if cooked in mustard paste. The 'Chittagong ferry chicken' is part of the traditional East Bengal cuisine developed by ferry workers of the Gwaland ferry service plying between the then Calcutta and Chittagong.
Every Bengali swears by his fish, especially if they are fresh water ones. From Hilsa and pomfret to Kolkata specialities of 'dimer devil' (egg chop) and 'chingri cutlet' (prawn), it is all about satisfying the taste buds. For the veggies, too, there are several items like 'aloo posto' (potatoes fried in poppy paste), 'ole kofta' (yam), 'chanar dalna' (paneer; cottage cheese).
For a traditional lunch, one can always visit the Bengal Association's pujas. "I've been preparing food at the pujas here for the past eight years," says Sadhan Adhikari who is the cook at the association and has come from Howrah. The 'bhog' prepared every afternoon during the five days of puja is a complete Bengali meal that includes 'kichudi' (rice and dal cooked to a yellow dish), 'cholar dal' (lentils), 'beguni' (fried bringals), 'alur dom' (potato cooked in spices) chutney and 'payesh' (payasam). These traditional dishes are served free to anyone who comes for darshan.
At the puja stalls, one can taste the famous roadside snacks of Kolkata. "We also prepare snacks that are typical of Bengal like rolls, cutlets, 'singharas' (samosas) and chops," Sadhan Adhikari adds.
The 'murg soped korma' (curry with chicken) is a traditional non-vegetarian curry offered by Hajeeras Kitchen, a chain of multi-cuisine restaurants. "Our speciality is the sweet Bengali sandwich of two layers with cream in between," says the co-owner of Hajeeras, Devanandh. Other items are 'shatkora mangsho' (mutton dipped in lemon curry) and vegetables, curry and fried.
A Bengali meal remains incomplete without that bit of sweet in the end. "We have special packs that include cashew and milk sweets for Rs 600," says Bharath Bohra, director of Gangotree. But for the grand finale, the last day of puja 'Dashami', Gangotree makes special delights from Kolkata.
"Since these sweets last for one day only, we make them especially for the Bengali customers," Bharath said.
To get a feel for homemade sweets, one can visit the appropriately named shop Mishtee on Nungambakkam high road. "We concentrate on keeping a fresh supply so there's only limited number of sweets available," says V Nichami, co-owner if Mishtee
This article was published here by Times of India on Oct 5, 2011